Social-Emotional Learning (SEL) Toolkit
Social-emotional learning (SEL) is the development of skills necessary for self-awareness, self-management, social awareness, relationships, and responsible decision-making. These abilities help students become successful adults, establish healthy relationships, and positively impact their community.

This document is designed to provide strategies and tools for incorporating SEL teaching strategies in any Career and Technical Education (CTE) classroom.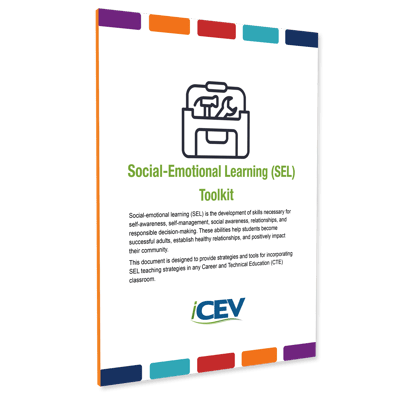 DOWNLOAD THE SOCIAL-EMOTIONAL LEARNING (SEL) TOOLKIT
Fill out the form below to gain instant access to the toolkit.
Empower Your Learners to Career Success
It's time to stop being overwhelmed by your responsibilities and requirements. With iCEV, you have everything you need to plan courses, certify students, and prepare them for success - all in one place.
Our easy-to-use, comprehensive CTE solution provides you with the necessary resources and systems to do your best work.
Sign up today and change your learners' lives.