Free Printable Classroom Poster
'Fly High Dream Big' Drone Curriculum
Drone curriculum on iCEV is offered in the course libraries for STEM, Agricultural Science and Law, Public Safety, Corrections & Security on the iCEV Platform.
The resource focuses on four primary areas: theory and design, flight skills, programming and preparation for the FAA Remote Pilot Certification Exam. Not only are these focus areas relevant to drone science, the knowledge and skills are also applicable to other CTE subject areas, specifically those related to programming and engineering and design.
The curriculum from DroneCurriculum.net will be implemented as three new iCEV courses.
Explore courses and lesson lists at https://www.icevonline.com/drone-curriculum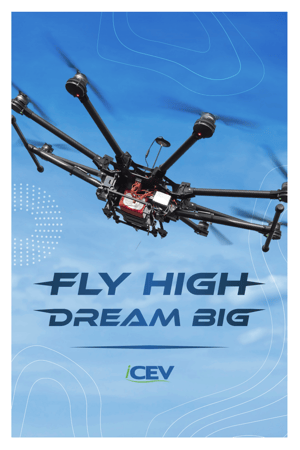 DOWNLOAD THE POSTER

Fill out the form below to gain instant access to this free poster. Show your support by displaying and sharing this printable drone poster!


Empower Your Learners to Career Success
It's time to stop being overwhelmed by your responsibilities and requirements. With iCEV, you have everything you need to plan courses, certify students, and prepare them for success - all in one place. Our easy-to-use, comprehensive CTE solution provides you the necessary resources and systems to do your best work.
Sign up today and change your learners' lives.