BASF Plant Science Certification
The BASF Plant Science Certification verifies individuals have acquired the knowledge and skills necessary to
excel in a variety of plant, natural and environmental science related fields
.
Meeting the Industry Need
The certification assesses industry-valued and industry-recognized standards produced by BASF, an internationally known brand recognized for providing solutions to reflect the specific needs of farmers' fields, crops and soil for more than 15 years. BASF helps provide an adequate supply of high-quality food, feed and renewable plant-based raw materials. For those endeavors, BASF focuses on developing and successfully commercializing innovative products and solutions based on scientific knowledge.
The certification validates individuals are prepared to play a vital role in ensuring agricultural productivity. Additionally, the certification allows employers to identify and connect with more skilled candidates, filling gaps in the labor market and jump-starting individuals' careers.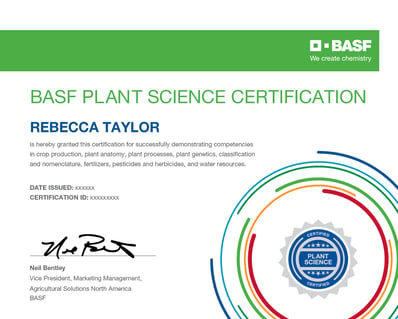 There are more than 100 career titles working with plants, spanning across art, science, technology and business, according to Seed Your Future. Furthermore, landscapers, scientists and agri-business workers can make six-figure salaries according to Learn How To Become.
Related Occupations
Landscaping & Groundskeeping Workers
Horticulturalist
Agronomist
Plant Geneticists
Crop Farmers
Industry Standards
The certification exam consists of 100 questions and assesses knowledge and concepts from the following weighted industry standards:
Plant Anatomy
Plant Cell Biology
Plant Structures
10%
Classification & Nomenclature
Plant Types
Plant Classification
Taxonomic Hierarchy
Cells, Tissues, Organs & Organ Systems
5%
Plant Processes
Cell Cycle
Plant Life Cycle
Plant Growth
Plant Hormones & Growth Regulators
Photosynthesis, Respiration & Transpiration
Plant Nutrition
15%
Plant Genetics
Plant Reproduction
Plant Biology
Plant Breeding
Biotechnology
10%
Crop Production
Midwest Region
Northeast Region
Southern Region
Western Region
5%
Plant Pests
Bacterial Diseases
Fungal Diseases
Viruses
Chewing Insects
Sucking Insects
Vertebrates
Weeds
25%
Fertilizers, Pesticides & Herbicides
Application Methods
Equipment
Records & Schedules
Proper Handling & Storage
Effects on the Environment
15%
Water Resources
Properties of Water
Sources of Water
Hydrologic Cycle
Freshwater Storage
Water Quality & Pollution
Wastewater
Water Rights
Water & Watershed Conservation
15%
Classification & Nomenclature - 5%
Fertilizers, Pesticides & Herbicides - 15%
Optional Certification Preparation Materials
The iCEV online curriculum platform offers a variety of preparatory content and resources designed to prepare individuals to earn industry certifications.
Featured Support Letters
View letters from businesses and organizations expressing their support of the certification.
At BASF, we create chemistry for a sustainable future. We combine economic success with environmental protection and social responsibility. Around 111,000 employees in the BASF Group contribute to the success of our customers in nearly all sectors and almost every country in the world. Our portfolio comprises six segments: Chemicals, Materials, Industrial Solutions, Surface Technologies, Nutrition & Care and Agricultural Solutions. BASF generated sales of €78.6 billion in 2021. BASF shares are traded on the stock exchange in Frankfurt (BAS) and as American Depositary Receipts (BASFY) in the U.S. Further information at www.basf.com
"At BASF, our goal is to build a sustainable future for agriculture through scientific innovation. The Plant Science Certification will provide a foundation to build on for tomorrow's leaders as they seek to meet social demands for food and fiber."
Ginger G. Light, Ph.D.
Head of Trait Development Operational Planning and Excellence
BASF
Interested in Verifying a Candidate's Certification?
---
If you're an employer looking to verify a job applicant's credentials, click the button below to be taken to a verification form.
If you do not have a certification number, please contact our customer support team to verify your candidate at:
customersupport@icevonline.com or 1-800-922-9965.
Empower Your Learners to Career Success
It's time to stop being overwhelmed by your responsibilities and requirements. With iCEV, you have everything you need to plan courses, certify students, and prepare them for success - all in one place.
Our easy-to-use, comprehensive CTE solution provides you with the necessary resources and systems to do your best work.
Sign up today and change your learners' lives.