Jim Kirchner
Chief Revenue Officer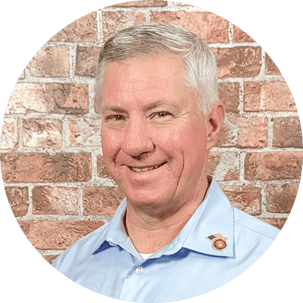 Jim Kirchner, Chief Revenue Officer (CRO), joined the iCEV team and brings over 34 years of proven leadership experience to our team. As CRO, Jim is driving better integration and alignment between all revenue-related functions, including marketing, sales, support, pricing and revenue management. Jim is both a military veteran and an education technology veteran. After graduating from NC State University with BS in Economics, Minor in Industrial Engineering and as Regimental leader of the NROTC Unit, Kirchner joined the United States Marine Corps.
During Jim's time serving the country as a USMC Captain, he was awarded the Navy Meritorious Service Medal and the Navy Achievement Medal. His love and passion for the military doesn't end there, Jim still wears his time with the USMC as a badge of honor and generally wears a red shirt every Friday in commemoration of veterans as a part of Remembering Everyone Deployed (RED).
Post USMC, Jim has proven and successful leadership in revenue growth and executive roles, leading teams of over 250 colleagues and over $100M of revenue.
In his day-to-day at iCEV, Kirchner enjoys collaborating with people and coaching teams to success. In his role as CRO, Kirchner invests time in the people and the challenges associated with change management, maximizing new growth and optimizing time, opportunities and processes.
"It takes time each day to review how we operate, how we sell, what we sell and the challenges or hurdles associated with more and faster. If we can invest our time wisely, we can reap benefits from those investments in the form of sustainable, scalable and recurring growth. I encourage and facilitate collaboration and problem-solving."
For Jim, this includes meeting both internally and externally, listening and then leveraging experiences to prompt actions that will make an impact. He likes to focus on the highest-impact activities that reap the largest rewards which generally means prioritizing and helping others prioritize.
His favorite part of the job is in fact, people. Kirchner says, "Impacting educators, students and coworkers keeps my engine running"!
As for Career and Technical Education, Kirchner believes that CTE programs can provide students with valuable skills and knowledge that can help them land good-paying jobs by preparing them for careers in high-demand industries. With the opportunity for hands-on, practical training that can be directly applied in the workforce, Jim trusts that CTE is paving the way for people all over the world to increase their standard of living and enjoy healthier and happier life.
Outside of work, you can catch Jim enjoying time with his wife, who was his high school sweetheart, playing Pickle Ball or celebrating with his family.