Dusty Moore
Chief Executive Officer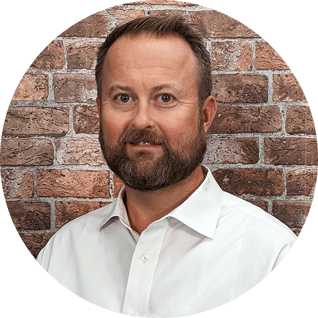 As CEO, Dusty Moore is strongly focused on platform development, as well as customer service, marketing and sales. Dusty's career at iCEV began in 2002 as a student production coordinator responsible for developing curriculum for various subject areas. His duties included researching, writing and editing educational video productions and Microsoft PowerPoint presentations and correlating materials to state educational standards.

To aid sales during the Texas textbook adoption, Dusty served as a curriculum sales consultant from 2004 to 2005 managing a territory that included more than 200 accounts, of which nearly 90 percent adopted and implemented at least one state-approved course of study. After finishing the adoption, Dusty was named production manager and was then promoted in 2007 to vice president of production. In this role, he managed a team in developing 547 copyrighted multimedia curriculum products for classrooms nationwide. In addition, he co-developed Pathway and Multimedia Pathway Unit products, which were adopted in 13 states for various Career and Technical Education (CTE) courses.

Due to his previous sales experience and dedication to iCEV, Dusty switched roles in 2009 becoming vice president of business development. During this period, he worked with Mark Johnson in hiring, managing and training a 20-plus person direct sales team covering 23 states. In 2011, Dusty was promoted to partner, and in 2012, Moore was promoted to president of iCEV and began developing the company's online platform. Due to his outstanding leadership and vision, Dusty was named president and CEO in 2020.

"Dusty combines work ethic, leadership, IT skills and business acumen to a remarkable level," said iCEV's founder, Gordon W. Davis. "We are lucky to have someone of Dusty's caliber leading our company into the future."

Dusty's passion for CTE originates from his childhood. Growing up in Boys Ranch, TX, he saw the role CTE programs played in shaping the lives and careers of several of his classmates, as well as his own. In high school, Dusty was active in the FFA program where he served as a chapter, district, area and state officer. His involvement in FFA led him to Texas Tech University, where he pursued a degree in agricultural communications and was involved in several agriculture education-related organizations such as the National Reserve Champion Meat Judging Team, the Alpha Gamma Rho Fraternity and Agriculture Ambassadors.

Dusty and his wife, Ginger, have their hands full with twins, Ella and Daphne, and younger daughter Macy.