Clayton Franklin
Chief Product Officer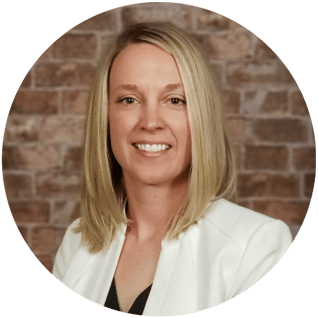 Clayton Franklin, Chief Product Officer of iCEV, is originally from Tucumcari, NM, and graduated from Kansas State University with her bachelor's degree in animal science in 2001. Franklin was involved in numerous successful judging teams during her high school and college career, placing high individual in more than ten contests nationally. She joined CEV as a student production coordinator while earning her MBA at Texas Tech University. In 2002, Franklin was one of 12 individuals to receive the Texas Business Hall of Fame Scholarship at Texas Tech University.
During her time as a production coordinator, Franklin was responsible for coordinating the development of educational multimedia presentations in both video and Microsoft® PowerPoint® formats and was the primary developer of the company's top-selling DVD (i.e., Career Planning Basics) for that time. In 2003, she was named marketing director and was promoted to vice president of marketing in 2007. As vice president of marketing, Franklin coordinated all aspects of point of sale materials, organized and planned conventions/conferences, assisted in the development, design and maintenance of the company website, promoted products and executed contracts with more than 70 resellers, as well as managed the support staff for all curriculum sales consultants.
Due to her previous experience in producing content, Franklin changed roles in 2012, becoming vice president of brand management. Together with a team of more than 30 employees, Franklin has managed the development of more than 1,150 copyrighted materials, and she takes great pride in creating a product educators want to use and students find engaging. Under Franklin's leadership, CEV has developed three new subject areas: Health Science, Law, Public Safety, Corrections & Security and Science, Technology, Engineering & Math (STEM). While her primary responsibility is leading content creation, Franklin additionally heads all instructional materials adoption efforts. More than 500 courses of study across 16 different states have been approved in textbook adoptions across the nation. Additionally, she works closely with both the marketing and sales departments to maintain the integrity and name recognition of the iCEV brand.
She received CEV's Employee of the Year in 2005 and the Aubrey N. Davis Family Award in 2007. In recognition of her performance, leadership and dedication, Franklin, along with three others, was promoted to partner of CEV in 2011 and in 2020 was promoted again to executive vice president. Franklin unquestionably attributes her success to being a "product" of Career & Technical Education. Her passion for CTE is the inspiration for her commitment and enthusiasm toward her efforts at CEV. Franklin is actively involved in the CTE community by presenting at several CTE conferences like the national CareerTech Vision annual conference and others across the country.
"Clayton is a gifted leader, and CEV has been blessed to have her contribute to stages of the iCEV content development process," said CEV's founder, Gordon W. Davis.
Together with her husband Wade, she enjoys working on the family sheep farm and watching her son, Hudson, show lambs and play youth sports, along with volunteering her time to help young men and women with their FFA and 4-H livestock projects.