Ducks Unlimited Ecology Conservation & Management Certification
The Ducks Unlimited Ecology Conservation & Management Certification verifies individuals have obtained exceptional knowledge and skills in the areas of ecological principles and wildlife management, as well as habitat, forest, grasslands, wetlands and waterfowl conservation and management.
Meeting the Industry Need
The certification assesses industry-valued and industry-recognized standards produced by Ducks Unlimited, the world's leader in wetlands and waterfowl conservation. Using a grassroots, volunteer-based organizational structure, Ducks Unlimited has built a successful partnership with private individuals, landowners, agencies, scientific communities and other entities to conserve, restore and manage North America's Wetlands.
The certification validates individuals have acquired a solid understanding of ecological principles. Those who earn the certification are more qualified and prepared to pursue a meaningful career in natural resources management. Additionally, the certification allows employers to identify and connect with more skilled candidates, filling gaps in the labor market and jumpstarting individuals' careers.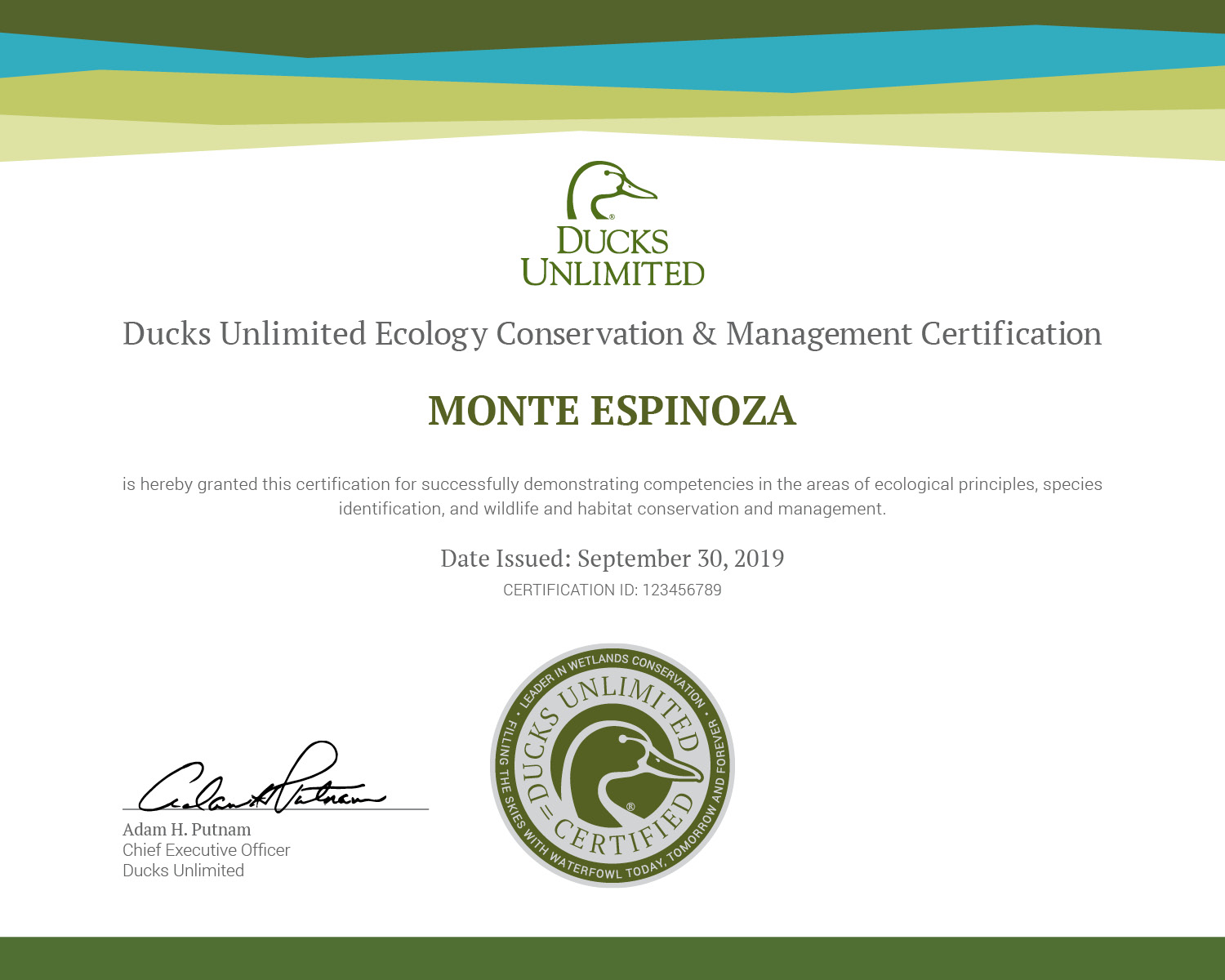 As a result of the greater value society has begun to place on natural resources and the environment, the Bureau of Labor Statistics projects an 8% job growth in wildlife management from 2016-2026. Careers include wildlife habitat manager, wildlife population manager, wildlife research ecologist, wildlife law enforcement officer and others.
Related Occupations
Natural Sciences Managers
Conservation Scientists
Foresters
Fishing & Hunting Workers
Forest & Conservation Technicians
Industry Standards
The certification exam consists of 100 questions and assesses knowledge and concepts from the following weighted industry standards:
Ecological Principles
Ecological Systems
Ecological Succession
Monitoring & Sustaining Ecosystems
20%
Wildlife Conservation & Management
North American Model of Wildlife Conservation
Population Ecology
Management Plans
30%
Species Identification
Non-Game Animals
Predator & Furbearers
Game & Upland Birds
Waterfowl
10%
Habitat Conservation & Management
Types of Habitats
History of Conservation
Importance of Conservation
Benefits, Threats, Legislation & Conservation & Management of the Following Habitats:

Forests
Grasslands
Wetlands
40%
Ecological Principles - 20%
Species Identification - 10%
Wildlife Conservation & Management - 30%
Habitat Conservation & Management - 40%
Are you a Certified Wildlife Biologist®?
Earn the certification for CEUs!
Learn More
The Wildlife Society's (TWS) Continuing Education Program requires Certified Wildlife Biologists® (CWB®) and Professional Development Certificate holders to seek ongoing learning opportunities to maintain their status with TWS. The renewal program requires CWB®s to complete contact hours in one of six different professional activity categories.
The Ducks Unlimited Ecology Conservation & Management Certification qualifies for continuing education units (CEUs) within the Self-Directed Activities section (Category V) on the CWB® Renewal Application while preparing to take the exam for certification. The Renewal and Professional Development Certificate programs operate on an honor-based system, so applicants must log their completed hours on their Renewal Application or their Professional Development Certificate Application.
The amount of time spent reviewing the content in the preparation materials will determine how many hours can be credited for CWB® renewal or professional development. Credit accrues at the rate of 1 CEU for each hour of activity. Preparation time will vary by participant, and no CEUs can be earned by simply taking the exam. CEUs will only be earned during the time preparing for the exam, such as watching videos and studying PowerPoints.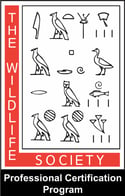 Optional Certification Preparation Materials
The iCEV online curriculum platform offers a variety of preparatory content and resources designed to prepare individuals to earn industry certifications.
Featured Support Letters
View letters from businesses and organizations expressing their support of the certification.
Free Ducks Unlimited Membership for Certification Earners
Individuals who earn the Ducks Unlimited Ecology Conservation & Management Certification are eligible to claim a free one-year Ducks Unlimited membership. Join the effort to conserve critical wetland habitats for waterfowl and other important wildlife.
Certification earners will receive information about claiming their membership upon delivery of the paper certificate.
Ducks Unlimited Inc. is the world's largest nonprofit organization dedicated to conserving North America's continually disappearing waterfowl habitats. Established in 1937, Ducks Unlimited has conserved more than 14 million acres thanks to contributions from more than a million supporters across the continent. Guided by science and dedicated to program efficiency, DU works toward the vision of wetlands sufficient to fill the skies with waterfowl today, tomorrow and forever.
"It's important that students understand not only the conservation and ecology of wildlife and wildlife habitat, but also their personal roles as future stewards."

Mark Horobetz
Manager of National R3 Programs
Ducks Unlimited
Interested in Verifying a Candidate's Certification?
---
If you're an employer looking to verify a job applicant's credentials, click the button below to be taken to a verification form.
If you do not have a certification number, please contact our customer support team to verify your candidate at:
customersupport@icevonline.com or 1-800-922-9965.
Empower Your Learners to Career Success
It's time to stop being overwhelmed by your responsibilities and requirements. With iCEV, you have everything you need to plan courses, certify students, and prepare them for success - all in one place.
Our easy-to-use, comprehensive CTE solution provides you with the necessary resources and systems to do your best work.
Sign up today and change your learners' lives.