Express Employment Professionals Business Office Technology Certification

The Express Employment Professionals Business Office Technology Certification verifies individuals have acquired the
technical computer skills necessary to be competitive
in today's modern workplace.
Meeting the Industry Need
The certification assesses industry-valued and industry-recognized standards produced by Express Employment Professionals. A premier staffing agency in the U.S., Canada and South Africa, Express specializes in recruiting and placing highly-skilled professionals in a wide variety of industries, all of which require a basic knowledge of business office technology.
Those who earn the certification are more qualified and prepared to implement core technology and business skills in the workplace. Additionally, the certification allows employers to identify and connect with more skilled candidates, filling gaps in the labor market and jump-starting individuals' careers.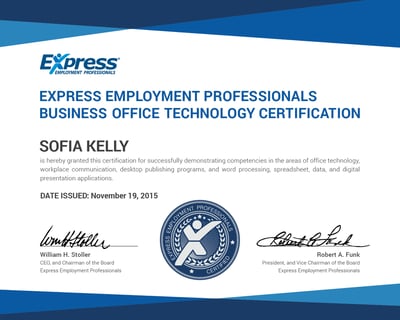 According to a recent survey conducted by Pew Research Center, a large majority of Americans rank technical skills as critical to workplace success, including a detailed understanding of how to use computers, of which 85 percent rate as "extremely" or "very" important.
Related Occupations
Business Operations Specialists
Receptionists & Information Clerks
Word Processors & Typists
Executive Secretaries & Executive Administrative Assistants
Media & Communication Workers
Industry Standards
The certification exam consists of 100 questions and assesses knowledge and concepts from the following weighted industry standards:
Office Technology Skills
Technology Impacts on the Workplace
Internet Use Methods
Computer Hardware Components
Computer Setup & Care
Operating, Networking & Information Systems


20%
Word Processing Applications
Document Creation & Editing Procedures
Business Applications of Word Processing Technology


10%
Database Applications
Database Design, Creation & Management
Business Applications of Database Technology


10%
Spreadsheet Applications
Spreadsheet Creation & Management
Business Applications of Spreadsheet Technology


10%
Database Applications
Non-Game Animals
Predator & Furbearers
Game & Upland Birds
Waterfowl


10%
Desktop Publishing Applications
Publication Creation & Editing Procedures


10%
Workplace Communication Strategies
E-mail Creation Procedures
Electronic Scheduling Practices
Telecommunications Techniques


15%
Ethical Applications in the Workplace
Online Etiquette
Web Privacy & Copyright Standards
Business Ethics Procedures


15%
Word Processing Applications
Digital Presentation Applications
Desktop Publishing Applications
Workplace Communication Strategies
Ethical Applications in the Workplace
Optional Certification Preparation Materials
The iCEV online curriculum platform offers a variety of preparatory content and resources designed to prepare individuals to earn industry certifications.
Featured Support Letters
View letters from businesses and organizations expressing their support of the certification.
About Express Employment Professionals
Founded in 1982, Express Employment Professionals ranks as one of the nation's largest franchised staffing companies. With nearly 900 franchise locations in the U.S., Canada, South Africa, Australia, and New Zealand. Express is in the business of putting people to work and helps job seekers in Light Industrial, Skilled Trades, Office Services and Professional roles. In fact, they put more than 586,000 people to work last year, and their goal is to employ a million people annually.
"We want to empower the next generation to make knowledgeable decisions about education and careers, and this partnership with iCEV is a powerful stepping stone in helping students discover and achieve their career goals."

Rachel Rudisill
Vice President of Marketing and Communications
Express Employment Professionals
Interested in Verifying a Candidate's Certification?
---
If you're an employer looking to verify a job applicant's credentials, click the button below to be taken to a verification form.
If you do not have a certification number, please contact our customer support team to verify your candidate at:
customersupport@icevonline.com or 1-800-922-9965.
Empower Your Learners to Career Success
It's time to stop being overwhelmed by your responsibilities and requirements. With iCEV, you have everything you need to plan courses, certify students, and prepare them for success - all in one place.
Our easy-to-use, comprehensive CTE solution provides you with the necessary resources and systems to do your best work.
Sign up today and change your learners' lives.