FREE CAREER CLUSTER POSTER SERIES
Exploring Careers: Law, Public Safety, Corrections & Security
Individuals pursuing a career within the Law, Public Safety, Corrections and Security Career Cluster are responsible for maintaining law and order through law enforcement and legal services, protecting the safety of citizens through emergency and fire management services, as well as security and protective services.
We have created a poster for each of the pathways within this cluster which will introduce your students to example careers.
Download these posters and display them in your classroom, share them on social media or use them as handouts for your students.
DOWNLOAD THE POSTERS
Fill out the form below to gain instant access to this free poster series.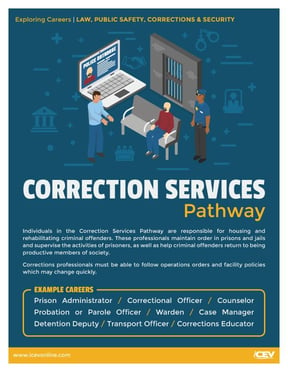 Correction Services Pathway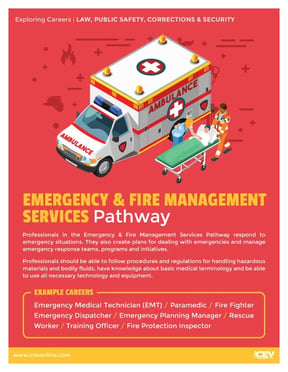 Emergency & Fire Management Services Pathway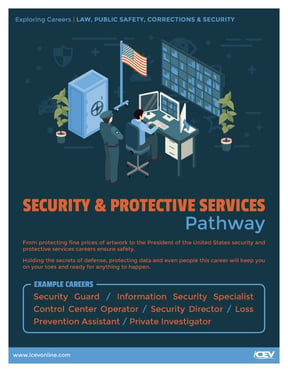 Security & Protective Services Pathway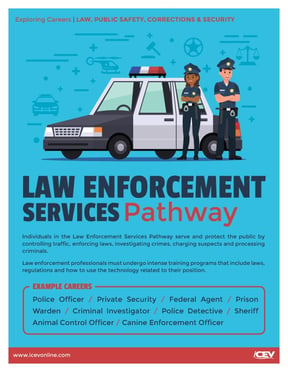 Law Enforcement Services Pathway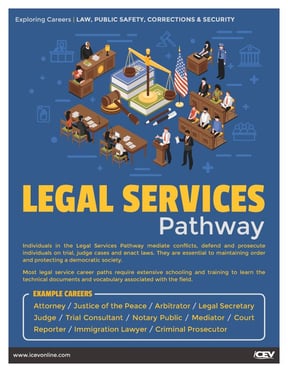 Legal Services Pathway
Empower Your Learners to Career Success
It's time to stop being overwhelmed by your responsibilities and requirements. With iCEV, you have everything you need to plan courses, certify students, and prepare them for success - all in one place.
Our easy-to-use, comprehensive CTE solution provides you with the necessary resources and systems to do your best work.
Sign up today and change your learners' lives.