EDUCATION WHITE PAPER
How ESSA and New Federal Funding Rules Will Impact Career and Technical Education
Signed into law in December 2015, the Every Student Succeeds Act (ESSA) is still in its early phases as the U.S. Department of Education has just released the final regulations for its implementation. The most profound shift is that most education decisions and responsibilities – about standards, interventions, and funding – will pass from federal to state governments. Under the new framework, states will take the lead on implementation, resources, interventions, accountability, and teacher evaluation systems.
This free white paper discusses how ESSA will affect Career and Technical Education programs, including Title I Funding and the Perkins Act.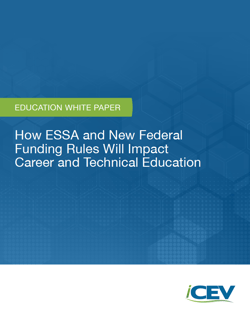 Empower Your Learners to Career Success
It's time to stop being overwhelmed by your responsibilities and requirements. With iCEV, you have everything you need to plan courses, certify students, and prepare them for success - all in one place. Our easy-to-use, comprehensive CTE solution provides you the necessary resources and systems to do your best work.
Sign up today and change your learners' lives.