iCEV Preparation Content for
ASE A4 Suspension & Steering
Utilize iCEV's latest subject area, Transportation: Automotive, Diesel & Small Engines, to prepare for ASE certification exams. Each lesson includes slide decks, video instruction and hands-on activities and projects to help master the domains tested for on ASE certifications.


iCEV is a certified ASE accredited training provider for automotive and diesel courses.
TOUCH
Steering Systems Diagnosis and Repair
30%
TOUCH
Wheel Alignment Diagnosis, Adjustment, and Repair
28%
TOUCH
Suspension Systems Diagnosis and Repair
30%
TOUCH
Wheel and Tire Diagnosis and Service
12%
Find ASE Content on the iCEV Platform
1. Add New Course/Certification
At the top right of the My Courses page, click the Add New Course/Certification button

2. Enter a Course Title
Type the name of the course you want to see in your My Courses page in the field named Course Title

Ex: If you are teaching "ASE A4 Suspension & Steering" in second period you could name it "Second Period - Suspension & Steering"

3. Choose Your Course Playlist
iCEV has customized course playlists to meet standards for your state.
Select Transportation: Automotive, Diesel & Small Engines
Then choose AST/MAST: Steering & Suspension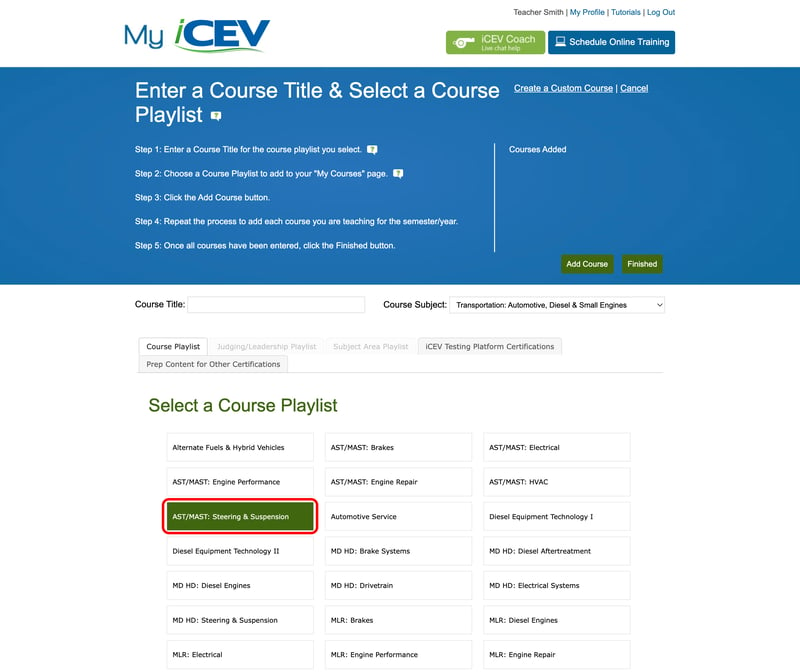 4. Add the Course
Once you have selected the course you would like to add and it is highlighted green:
Click the Add Course button in the right side of the blue header section
The course name you chose will now appear underneath the Courses Added: heading
Repeat Steps 2-4 to add more courses to your My Courses page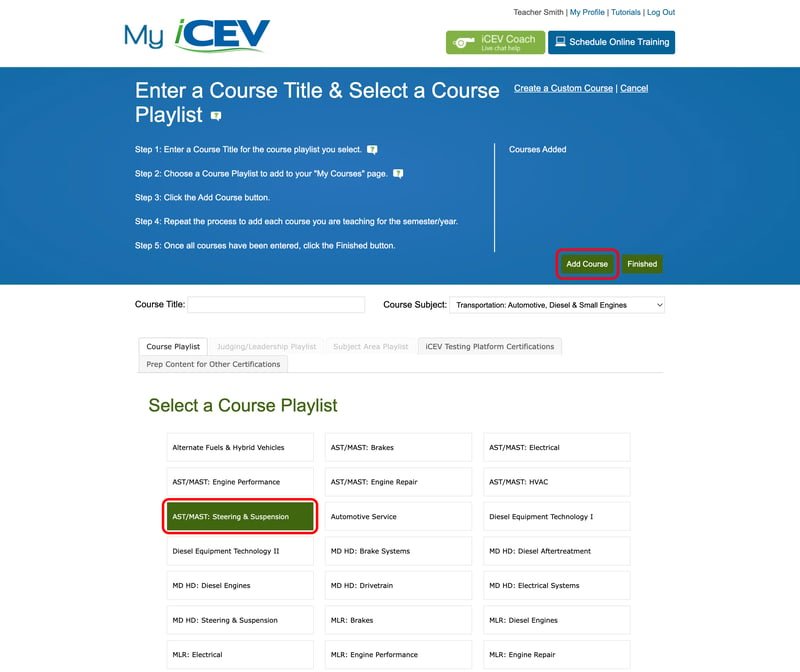 6. Finish
Once you have added all of your courses:
Click the Finished button. You will be redirected to your My Courses page
All of the courses you added will appear in your My Courses list