What is iCEV's Middle School Digital Literacy & Career Exploration Curriculum Package?
Subscribe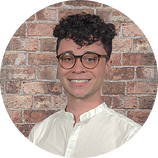 After serving as a Texas FFA state officer in 2018, Josh Witherspoon joined the iCEV team as a part-time employee for 3 years before taking on the role of content development specialist in 2022. Witherspoon holds a bachelor's degree in agricultural communications from Texas Tech University, in which his experience and proficiency in writing, marketing and CTE allow him to effectively communicate the successes of CTE educators and students and the value iCEV has to offer.
Giving your middle school students the opportunity to explore careers and prepare for their futures is why your course offers unmatched value for learners. However, without the right career preparation and planning curriculum, you risk students missing out on an opportunity to pursue their interests and prepare for what comes after graduation.
As a passionate provider of middle school curriculum and resources, educators often ask us about the components and structure of iCEV's Middle School Digital Literacy & Career Exploration curriculum.
In this article, you'll discover answers to the three most common questions educators ask us when evaluating this resource, including:
What is the Middle School Digital Literacy & Career Exploration curriculum?
How is the curriculum structured?
Is the Middle School Digital Literacy & Career Exploration curriculum the right choice for my students?
By better understanding the purpose and components of this curriculum, you will be able to make a more educated decision in your search for the best resource for your students.
1. What Is the iCEV Middle School Digital Literacy & Career Exploration Curriculum?
iCEV offers a Middle School Digital Literacy & Career Exploration curriculum package designed for 6th, 7th and 8th grade students. The purpose of this curriculum is to help your students become savvy digital citizens and explore future career opportunities while offering opportunities to show mastery of industry skills.
Middle school is a natural yet challenging time for students to explore careers and gain valuable skills for their futures. It's a time of transition for these students in which their experiences have a strong influence on their future academic success and preparation for life after they graduate.
Middle school career exploration also capitalizes on students developing abilities to think abstractly, and their preferences for teamwork and active learning through relevant real-world scenarios. These preferences make middle school a prime time for students to learn about careers and develop skills such as problem-solving, critical thinking and digital literacy.
2. How Is This Curriculum Structured?
iCEV's Middle School curriculum package consists of comprehensive courses in which students learn about a wide variety of industries and career opportunities. In addition to exploratory courses, the package includes courses focused on valuable concepts and skills necessary for many industries including keyboarding, financial literacy and career readiness.
The 12 courses in this curriculum package are:
Exploring Agriscience
Exploring Family & Consumer Science
Exploring Health Science
Exploring Business
Exploring STEM
Keyboarding
Financial Literacy
Career & College Exploration
Career Readiness
Digital Literacy: 6th Grade
Digital Literacy: 7th Grade
Digital Literacy: 8th Grade
Educators will find that every lesson in each of the 12 courses is accompanied by detailed lesson plans that include a daily scope and sequence and best practices for utilizing the lesson's projects, activities and interactive items. In addition, these documents include implementation and differentiation strategies to support every learner in your classroom.
This curriculum also includes expert driven content through multimedia lessons featuring videos, slide presentations and interactive activities. These allow students to take a deeper dive into lesson material through hands-on learning and further discovery. Provided projects and activities also offer novel ways to increase retention as students apply knowledge learned in the classroom to solve problems that reflect real-world scenarios.
In this middle school career exploration curriculum package, you can also find automatically-graded checks for understanding and final assessments that can be customized to fit your instructional goals and students' needs. In addition, from blended learning to flipped classrooms, the iCEV platform allows you to customize student learning with a variety of options including face-to-face classroom instruction, distance and hybrid learning models to fit any learning environment.
Is the Middle School Digital Literacy & Career Exploration Curriculum the Right Choice for My Students?
As a middle school educator, the right career preparation curriculum allows you to give students not only the opportunity to gain valuable knowledge and skills, but also a head start in planning for their futures. On the other hand, if you use an outdated or unengaging resource, you risk students missing out on exposure to important concepts and possible career opportunities.
If you're looking for a comprehensive middle school career exploration curriculum designed to expose students to a wide variety of career opportunities while equipping them with the knowledge and skills necessary for success in the workforce or post-secondary education iCEV's curriculum package is a solid choice.
Does the Middle School Digital Literacy & Career Exploration curriculum package sound like it might be a good fit for your students? Start your 30 day free trial and gain instant access to iCEV's entire middle school curriculum to try these courses out for yourself!