Save Time On Administrative Tasks
Take back hours each week with ready-to-use planning resources, instructional materials, and data reporting.
Fully Engage Your Learners
Capture student attention with a blended CTE curriculum that provides a relevant and engaging learning experience.
Meet State Accountability Requirements
Easily implement state-aligned courses and industry certifications designed to prepare students for college and career success.
Educators Carry the Weight of Student Success
CTE educators like you are dedicated to preparing learners for career success. However, you're overwhelmed by so many different tools, responsibilities, and requirements. You deserve a solution that will simplify your life and help you get back to what matters most -- your students.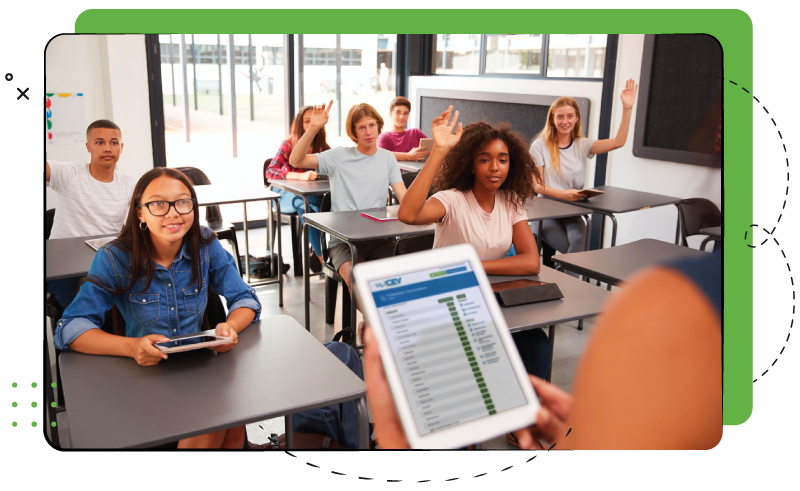 Make Learners Your Priority
With iCEV, you have everything you need to equip learners with the real-world skills they need. This all-in-one CTE solution provides:
Comprehensive curriculum to teach more than 200 courses across 16 career clusters
Standards-aligned prep materials to ready students for certification exams
Multiple industry certifications hosted on the iCEV Testing Platform
Software to track, compile, and analyze critical student data
3 Simple Steps to Make a Difference for Your Learners
Educators deserve tools that will give their learners more opportunities to grow and excel. Follow these steps to get back to what matters.
Identify your biggest challenges and discuss how iCEV can solve them.
Explore our solutions to make sure they're the right fit for your district.
Talk with an iCEV team member to find a solution for you and discuss available funding options.
Thousands of Educators Have Inspired Learners with iCEV
"I love iCEV. I feel like I have a partner or coworker that is always helping me. It's my favorite tool in my toolbox."
Overcome Your Biggest Challenges as a CTE Teacher
Tired of feeling overwhelmed by planning, grading, keeping students engaged, meeting standards, and everything else you need to do? You're not alone: thousands of teachers face these challenges every week. Thankfully, there are strategies you can implement to solve them.
Download your free guide to reclaim your time and get back to focusing on your students.
Empower Your Learners to Career Success
It's time to stop being overwhelmed by your responsibilities and requirements. With iCEV, you have everything you need to plan courses, certify students, and prepare them for success - all in one place. Our easy-to-use, comprehensive CTE solution provides you the necessary resources and systems to do your best work.

Sign up today and change your learners' lives.