What is eLearning and Why Do Teachers Like It?

Subscribe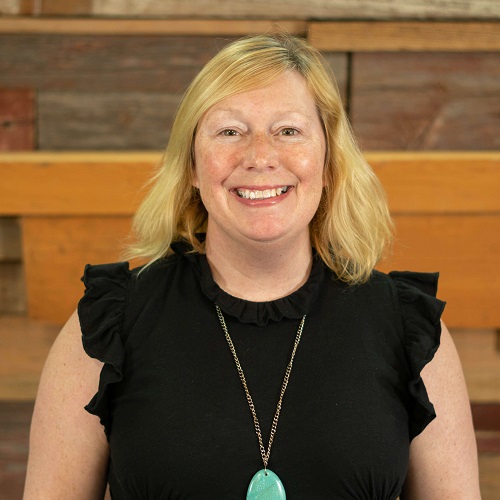 Sarah is a contributing author to the AES blog. She is committed to helping instructors and students succeed both in and out of the classroom.
When reviewing our CTE curriculum, some of the most common questions that teachers ask us is "What is eLearning?" and "How is eLearning different from eBooks and online courses?"
These may sound like pretty basic questions. However, understanding the nuances of eLearning apart from other similar, but different, techniques and products can be a real problem for teachers that have been challenged to include digital curriculum in their classrooms. They want to make sure they get it right! So let's take a look at what eLearning is and what makes it unique among similar but different options such as eBooks and video-based courses.
What is eLearning?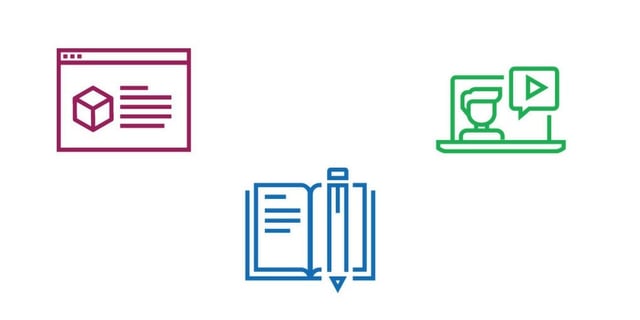 So... what exactly is eLearning? At AES we consider our curriculum to be eLearning curriculum since it is cloud-based and students complete lessons, activities, and other projects while logged into the system. An important distinction between this and an online course is that eLearning curriculum is specifically designed to be blended with face-to-face interactions in the classroom.
The Online Learning Consortium explains eLearning by including the many ways in which it can be used in (and out) of the classroom. In his article "Updated E-Learning Definitions," John Sener describes eLearning via multiple definitions, which include:
Classroom Course: Course activity is organized around scheduled class meetings and may involve some sort of computer usage.
Synchronous Distributed Course: Web-based technologies are used to extend classroom lectures and other activities to students at remote sites in real time.
Web-Enhanced Course: Online course activity complements class sessions without reducing the number of required class meetings.
Blended Classroom Course: Online activity is mixed with classroom meetings, replacing a significant percentage, but not all required face-to-face instructional activities.
Blended Online Course: Most course activity is done online, but there are some required face-to-face instructional activities, such as lectures, discussions, labs, or other in-person learning activities.
Online Course: All course activity is done online; there are no required face-to-face sessions within the course and no requirements for on-campus activity.
Flexible Mode Course: Offers multiple delivery modes so that students can choose which delivery mode to use for instructional and other learning purposes.
At AES, our vision and products most closely align with and support what Sener calls the Web-Enhanced Course, Blended Classroom Course, and Blended Online Course. I wouldn't pinpoint one specifically, since teachers vary in how they use eLearning curriculum based on what works best in their classrooms.
What is an eBook?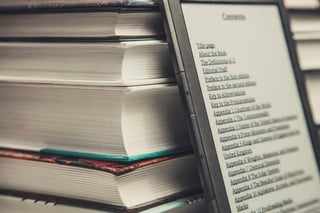 When looking to include digital curriculum in their courses, many teachers wonder what the difference is between using eLearning curriculum and an eBook. An eBook is essentially the same as a print book, only it is accessible digitally. This can be a great benefit, but also a downfall when compared to eLearning curriculum.
Because an eBook is an electronic version of a textbook, they are usually static. Though the content is accessed using technology, there is little to no interaction other than the fact that a student uses technology to access the text.
What is an online or video course?
Often times teachers think our eLearning curriculum is used for online courses, rather than in a blended learning classroom setting. We consider an online or video course to be what Sener defines as a Synchronous Distributed Course or an Online Course. These are courses where online coursework takes the lead in content delivery. There is little to no interaction with the teacher or other students in these types of courses.
While this is a viable way to teach, a strictly online or video-based course is not eLearning as we describe it.
Why make the distinction between these types of digital curriculum?
At AES, we have no desire to replace the teacher. Quite the opposite is true, in fact. We believe that the teacher is the most important driver of learning in the classroom and that eLearning curriculum can add value to any course.
eLearning helps teachers by introducing, supporting, or reviewing material that the teacher is covering. Technology is an interesting and exciting way to deliver curriculum. We believe blending eLearning into lesson plans and courses helps both teachers and students. It engages students and allows for differentiated instruction and learning at each student's own pace.
Using eLearning curriculum allows the teacher to work one-on-one or in smaller groups with students, so that students that need more help can get it, and students that can move ahead aren't held up.
What distinction do teachers make?
Carol Otjens, Director at the Grossmont Health Occupations Center in Santee, CA knew they wanted to start using digital curriculum, but did not want to use eBooks. One of Carol's teachers was at a conference and heard about the HealthCenter21 eLearning curriculum and picked up a brochure and shared it with her:
"We were looking for a program like this. We didn't want eBooks. A supplement to our existing texts was what we were looking for. I love HealthCenter21. I wish it had been around when I was teaching."
Teachers are using the eLearning curriculum as a supplement, along with a typical paper textbook and workbooks, PowerPoints, and handouts… in a perfect blended learning approach Although the campus has really good labs for when students have a break from theory and lecture, this additional eLearning resource is being well received.
When asked how eLearning curriculum meets their needs over eBooks, Carol explained:
"We find that our population likes the idea of paper/highlighter aspect of an actual textbook. Also, we have just one computer lab with 30 computers. With an eBook, all the classes would have to be in there all the time. For our setup, it would be too complicated. We just wanted a supplement."
Students can use the eLearning resource at school, at home, or anywhere they have Internet access. To learn more about how the instructors at Grossmont Health Occupations Center use eLearning, read the case study: 3 Ways HealthCenter21 Streamlines Learning in Medical Assistant Classes
How are teachers using eLearning curriculum?
The Flipped Classroom
Early in her teaching career, Kozy Hubbard had heard about the flipped classroom, but wasn't sure how it worked or if it would apply to her program. Until she attended an EMS Conference and heard from Daniel Limmer, an author and EMT/EMR instructor in Maryland:
"I never understood the concept of the flipped classroom until I talked to him. He said, 'You make them do the work. You get them doing this at home and when they come in to you, they're prepared.' It's such a great concept! I do that with a lot of my students and it has really worked out."
After using this approach for some time, Kozy and her Medical Academy students have had a great experience. The benefits Kozy has seen while using the HealthCenter21 eLearning curriculum in a flipped classroom approach are:
Increased student engagement

and deeper learning

More interest generated in health care topics

Better flexibility with varying technology access

Meeting the needs of diverse learners more easily
Kozy has found that, by using HealthCenter21 with a flipped learning approach, her student engagement has increased. Part of the reason that Kozy believes student engagement and interest have increased is that she doesn't spend as much time lecturing. This allows classroom time to be much more focused, and the students experience deeper learning.
"With HealthCenter21 the students are more engaged when I am doing the lecture because I try to have them go through the modules prior to me lecturing, and even sometimes while I am lecturing.

It has cut down on my lecture time, which I thoroughly enjoy because I can go through it quicker. What it does is it kind of stimulates the students because now they're saying, 'Oh, I have a question. I didn't understand this. I heard that on HealthCenter21, but can you explain it to me?' So when I'm doing lecture, we get a little bit more into the meat and potatoes of everything."
To learn more about how flipping the classroom with eLearning has helped Kozy and her students, read the case study: 4 Valuable Benefits of a Flipped Classroom for a CTE Program
Reaping the Benefits of Blended Learning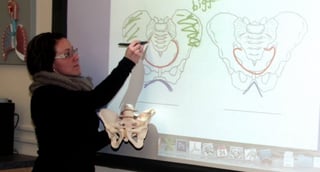 Stephanie Avery from Father Patrick Mercredi High School uses eLearning curriculum in a truly blended approach. She mixes eLearning using HealthCenter21 with workbooks and activities that she's developed along with some lecture. With her students ranging in age from 15 to 18, Stephanie emphasizes:
"I need to teach. Some of the more complex content requires more than just one touch with online learning."
So, blended learning is ideal for her courses. Students are learning in a variety of ways, including online, teacher-led lecture, clinicals, hands-on activities, and PowerPoints.
When students are assigned online work in HealthCenter21, Stephanie makes herself available to students. She walks around the classroom answering questions that come up. She's a facilitator during these moments, or as she describes, "I'm still here, but they are doing the work."
While she facilitates, she asks students questions, as well. If students struggle with concepts they've learned online, this allows Stephanie to see which material they can do solely online and what material she will need to go over with them in another way.
To learn more about how Stephanie succeeds with a blended learning environment, read the case study: How Blended Learning Helps Teachers and Students Succeed
eLearning: So many RIGHT ways to do it!
One thing I've noted about eLearning curriculum from teachers over the years is that there are so many ways to use it. And all of them are exactly right for the teacher that is using them! Finding what's right for your classroom might take some trial and error. But the rewards are great and well worth the moments when you realize there was a better way. Go for it!