Career and Technical Education (CTE) | Industry Certifications
What Is A Digital Badge, and How Does It Help My Certification Earners?

Subscribe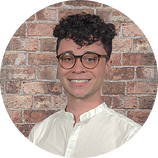 After serving as a Texas FFA state officer in 2018, Josh Witherspoon joined the iCEV team as a part-time employee for 3 years before taking on the role of content development specialist in 2022. Witherspoon holds a bachelor's degree in agricultural communications from Texas Tech University, in which his experience and proficiency in writing, marketing and CTE allow him to effectively communicate the successes of CTE educators and students and the value iCEV has to offer.
In an ever-changing workforce, it's essential to communicate expertise and achievements effectively.
As a CTE teacher, it's easy to focus on preparing certification candidates for exam success and equipping them with the knowledge and skills to be successful in their workforce or post-secondary education endeavors. While having qualifications is great, the value of those experiences and achievements must also be effectively communicated to employers.
To provide certification candidates with proof of their credentials that will last a lifetime, iCEV partners with Credly to offer digital badging for industry certifications hosted on the iCEV Testing Platform.
But what is a digital badge, and how could it benefit your students?
In this article, we'll take an in-depth look at digital badges to answer the most common questions teachers have, including:
What Is a Digital Badge?

What Are the Benefits of a Digital Badge?

How and Where Can a Digital Badge be Shared?
By the end of this article, you'll better understand the purpose and value of digital badges to decide if incorporating them into your program adds value.
1. What Is a Digital Badge?

Sometimes referred to as digital credentials, digital badges are the electronic replacement for paper certificates. They provide verifiable metadata that describe the qualifications and process required to earn an industry certification, making it easier for certification earners to communicate and display their achievements, knowledge and skills.
A digital badge is more than just an image or logo. Instead, it's a dynamic, portable icon embedded with qualifying information such as the recipient's name, who issued the badge, when it expires, where and how the recipient earned it, and a detailed description of the competencies met.
2. What Are the Benefits of A Digital Badge?
Earning a digital badge is a powerful way for certification earners to take charge of their professional growth and development before entering the workforce or pursuing post-secondary education. But what are the benefits certification earners gain from using digital badges?
Benefits of using digital badges include:
Verified skills and expertise

Differentiation in the job market

The convenience of storing credentials online
A digital badge validates that the earner has acquired knowledge and skills by earning an industry certification. Instead of reading recommendations or making phone calls to validate an applicant's achievements, with digital badges, employers can easily see the entire certification process and requirements an individual met to earn their certification.
A major advantage of digital badges is that they differentiate earners and help them rise above other applicants when applying for jobs or continued education. Digital badges provide an easy path for employers to validate an earner's credentials with a single click. They also convey the underlying qualifications that a person must meet to earn the badge. Digital badges help certification earners find jobs as job posting key phrases are matched to the verifiable skills proven in a digital badge.
Badges also offer a convenient way to record, store, and share certifications digitally. Unlike paper certificates you must keep track of, you can easily add digital badges to any document, creating a streamlined way to convey knowledge and skills. Instead of using multiple sentences in a resume or portfolio to try and describe the value of certifications, digital badges do the heavy work by giving a comprehensive look at what it means to earn a credential.
3. How and Where Can Certification Earners Share Their Digital Badges?
Digital badges provide a tangible and easily shareable way for certification earners to showcase their skills and achievements, enhancing their personal brand and increasing visibility to potential employers or educational institutions.
Once a student has earned an industry certification and claimed their badge there are a variety of ways to use a digital badge, including:
Include in an email signature
Embed in a digital resume or online portfolio
Share on social media
Below, you'll learn more about how each of these opportunities to share digital badges helps students stand out.
Share in an Email Signature
Anywhere someone has chosen to include a digital badge, they are building their brand. As one of the most commonly used forms of communication today, email offers a solid space for certification earners to display a digital badge in their email signature. Explore how to embed a digital badge into an email signature to help credentialed people everyday communications become an opportunity to showcase their knowledge and skills.
Embed in a Resume or Portfolio
Since digital resumes and portfolios are designed to showcase experience and skills, this is an ideal place to include a digital badge. You can copy the embedded code for your digital credential, download your badge, or copy the badge URL to paste into your document.
Share on Social Media
LinkedIn is a powerful professional networking social media platform, making it a great platform on which to share a digital badge. For certification earners who claim a digital badge by earning an industry certification, Credly provides several options for sharing your badge to popular social platforms such as LinkedIn, Facebook and Twitter.
Help Your Students Earn a Digital Badge
Equipping certification candidates with the knowledge and skills necessary to be successful in the workforce or post-secondary education is your top priority as an educator. But developing skills is only half the battle when your students search for jobs. Certification candidates must effectively communicate their achievements and value to get the career opportunities they deserve.
Digital badges offer an innovative and convenient way for certification earners to verify their experience and differentiate themselves in the job market.
Could digital badging benefit your students' professional growth? Help them earn an industry certification hosted on the iCEV Testing Platform to claim their digital badge and set themselves on a path for personal and professional success.