Health Science | NHA CCMA | Medical Assisting | NCCT NCMA
NHA CCMA vs. NCCT NCMA: What's the Difference?
Subscribe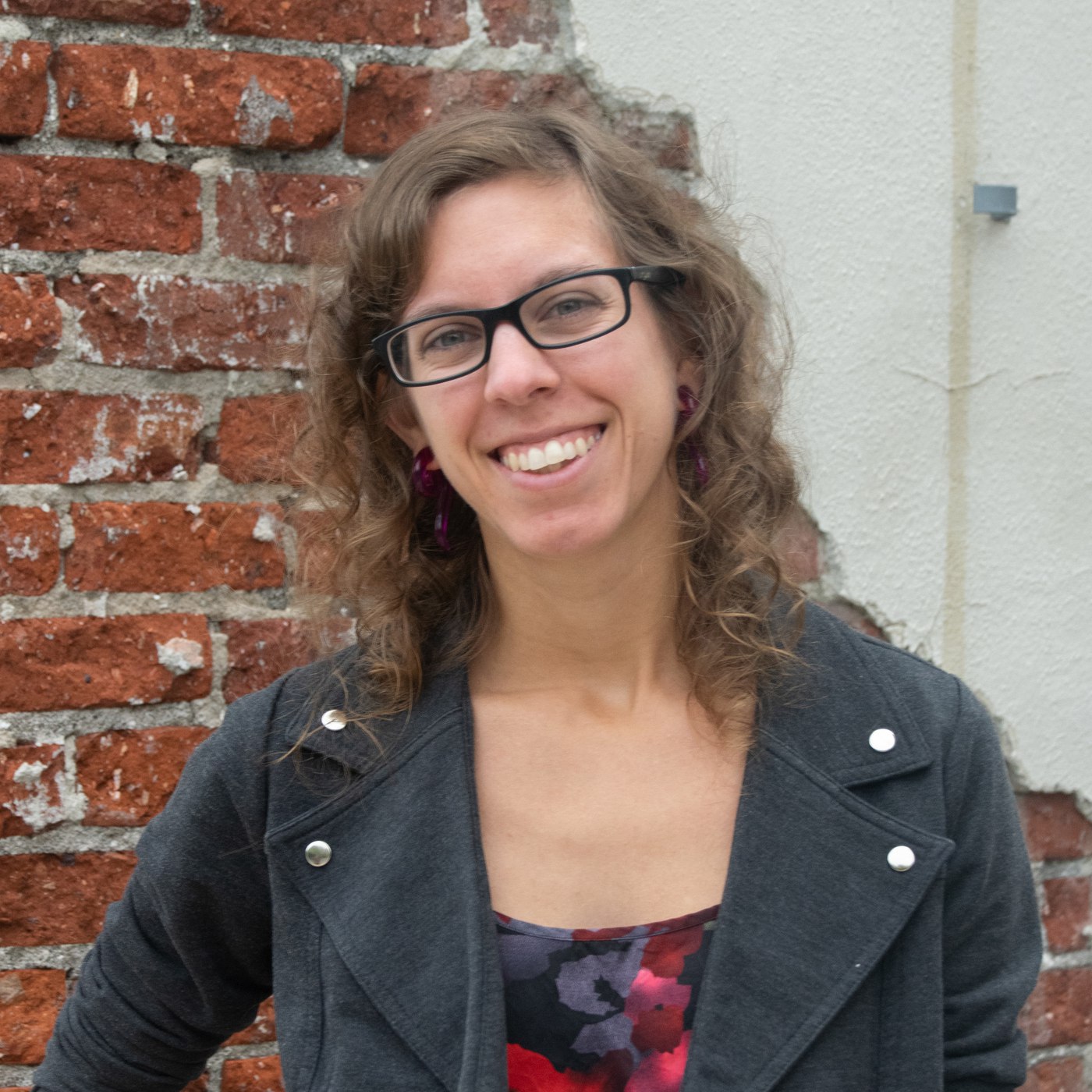 For nearly 10 years, Bri has focused on creating content to address the questions and concerns educators have about teaching classes, preparing students for certifications, and making the most of the iCEV curriculum system.
As a health science curriculum provider, we work with hundreds of medical assisting teachers every year.
When speaking with these teachers, the topic of certifications come up nearly every day.
After all, every student in your program needs to earn a medical assistant certification to start their career!
But when starting a new medical assisting program, it's tough to know which certification you should choose.
Many teachers we speak with opt for either the NHA CCMA or NCCT NCMA certification, as both providers are well established in the industry.
But what are the differences between them? And how do you know which one is right for your program?
In this post, we'll answer the four most common questions teachers ask about the NHA CCMA and NCCT NCMA certifications:
What do the certifications mean?

What topics are on the exams?

What's the certification application process?

Which one should you implement?
You'll also discover how teachers like you use iCEV's HealthCenter21 curriculum system to prepare their students for medical assistant certification success!
1. What Do the CCMA and NCMA Certifications Mean?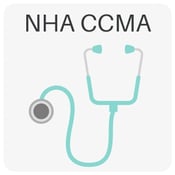 The NHA Certified Clinical Medical Assistant (CCMA) certification designates someone has the necessary skills to work as a medical assistant focused on clinical skills in ambulatory healthcare settings.
This includes medical offices, clinics, urgent care centers, and specialty practices.
In smaller healthcare facilities, a CCMA may take on minor administrative tasks, but their main focus involves clinical skills and working directly with patients.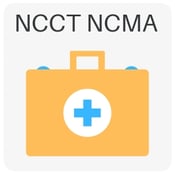 The NCCT National Certified Medical Assistant (NCMA) certification denotes that an individual has the clinical and administrative skills necessary to work as a well-rounded medical assistant.
An NCMA is most often employed in medical practices such as physician offices and outpatient clinics.
As part of their daily work, an NCMA is responsible for clinical and administrative duties to ensure a good experience for every patient they encounter.
Now that you know what each certification means, let's get into the detailed exam topics!
2. What Topics Are on the CCMA and NCMA Exams?
Though the CCMA and NCMA exams are both medical assisting certifications, the tests are surprisingly different!
Each exam emphasizes different topics they believe medical assistants need to know.
Here's an overview of the breakdown of CCMA and NCMA exam topics: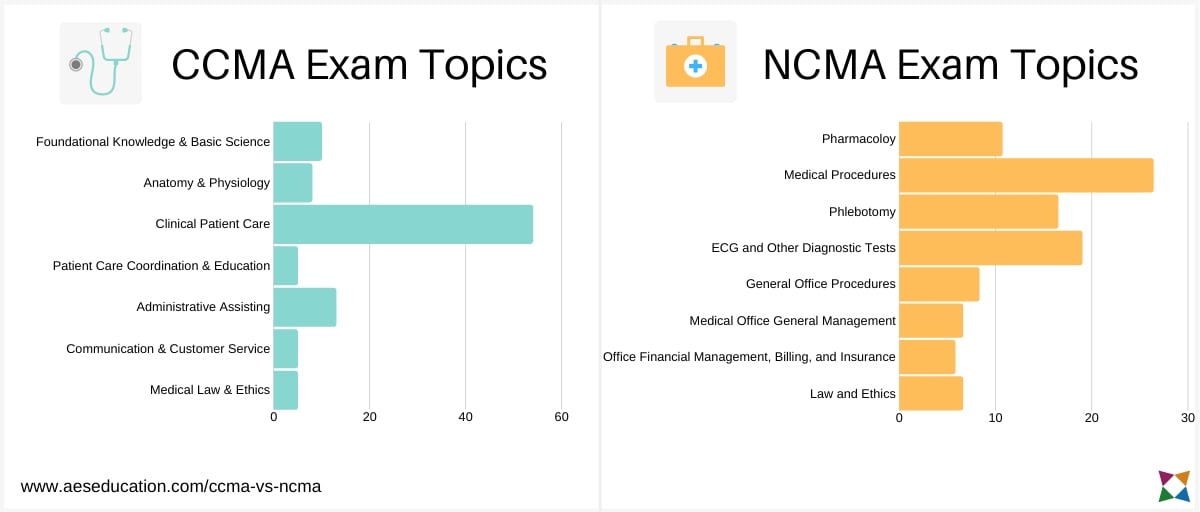 But what exactly do these topic areas encompass for each exam?
NHA CCMA Exam Topics

The NHA CCMA exam includes 150 questions and 30 pre-test questions that fall under seven topic areas called "domains:"
Foundational Knowledge and Basic Science

Anatomy and Physiology

Clinical Patient Care

Patient Care Coordination and Education

Administrative Assisting

Communication and Customer Service

Medical Law and Ethics
The Foundational Knowledge and Basic Science domain concerns the overarching healthcare concepts a medical assistant must know. These include healthcare systems, medical terminology, nutrition, pharmacology, and other fundamental concepts.
The Anatomy and Physiology domain includes the details of what a medical assistant needs to know about organ systems, pathophysiology, disease processes, and microbiology.
The Clinical Patient Care domain is the largest portion of the NHA CCMA exam. That's because it encompasses most of the duties a medical assistant completes on a daily basis, including general patient care, infection control, lab procedures, phlebotomy, and EKG testing.
The Patient Care Coordination and Education domain covers the ways a CCMA will interact with patients and their families during transition care, team-based patient care, and other unique situations.
The Administrative Assisting domain includes tasks a CCMA may be responsible for in a smaller healthcare facility. This includes scheduling, documentation, working with medical records, and more.
The Communication and Customer Service domain focuses on the ways a medical assistant communicates with patients and other healthcare workers. You'll find specific items relating to communication styles, telephone etiquette, professionalism, customer service, and more.
The Medical Law and Ethics domain relates to regulations a medical assistant must follow related to patient privacy, the Hippocratic Oath, advanced directives, and more.
Ultimately, your students must be proficient in each of these domains to earn their CCMA certifications.
To see the full details of what your students should expect, you can review the NHA CCMA Test Plan.
NCCT NCMA Exam Topics

The NCCT NCMA exam includes 125 questions and 25 pre-test questions across four areas called "content categories:"
Pharmacology and General Medical Knowledge

Clinical Medical Procedures

Medical Administrative Duties

Law and Ethics
The Pharmacology and General Medical Knowledge category focuses on areas of pharmacology a medical assistant may be responsible for. This includes information like basic calculations, medication administration, medication documentation, and more. In addition, students are responsible for recognizing the typical signs and symptoms of various medical conditions.
The Clinical Medical Procedures category is largest on the NCMA exam. It is divided into four subcategories:
Infection, Exposure Control, and Safety

Patient Intake and Care
This category includes some of the most common processes and duties medical assistants perform on a daily basis, such as infection control, emergency care, patient exams, and basic life support.
It also addresses a medical assistant's role in collecting samples and assisting with diagnostic tests.
The Medical Administrative Duties category encompasses a variety of administrative skills, such as communicating with patients, using medical office software, managing appointments, and working with patient records. It also includes activities related to payments, ICD coding, and insurance and billing.
The Law and Ethics category relates to the legal responsibilities a medical assistant must follow. These include scope of practice, disclosure laws, and the Patient's Bill of Rights. The category also addresses office safety requirements, including OSHA guidelines, maintaining Material Safety Data Sheets (MSDS), and complying with accreditation requirements.
Overall, each category on the NCCT NCMA exam ensures your students are prepared to work as a multi-skilled medical assistant.
For the full details of what's on the exam, you can check out the NCCT's NCMA Detailed Test Plan.
Now that you know what each medical assistant certification entails, let's dive into the student application process!
3. What's the Certification Application Process?
Because the CCMA and NCMA certifications are provided by different organizations, the application process is different.
Understanding the details of applying can help you determine which certification would work best for your students!
The NHA CCMA Certification Application Process

To apply for the NHA CCMA exam, candidates must first possess a high school diploma or GED equivalent.
In addition, the candidate must meet one of the following pathway requirements:
Completion of a medical assisting training program in the past five years

Completion of a Department of Labor approved apprenticeship program in the past five years

Completion of medical training within the US Military in the past five years

Completion of NHA-approved externship coursework in the past five years

One year of supervised medical assisting work experience in the past three years
But what if your students don't meet one of these criteria?
A current high school student is eligible to take the NHA CCMA exam if they are scheduled to graduate from an accredited high school medical assistant program within the next 12 months.
In that case, high school students can earn a provisional CCMA certification that becomes a full certification upon graduation.
If your students find themselves in these circumstances, they can fill out an exam application and pay the fee ($160).
Once the application has been submitted, the CCMA exam is scheduled!
The NCCT NCMA Certification Application Process
The NCCT allows candidates to take the NCMA exam if they meet one of the following routes:
Route 1A: A current student in a CTE high school or post-secondary medical assistant program from an NCCT-authorized school
Route 1B: A graduate from an NCCT-authorized medical assistant program within the past five years
Route 2: An individual with two years of full-time employment as a medical assistant within the past five years
Route 3: An individual who has completed medical assistant training (or equivalent) during US military service within the past five years
If eligible, an individual can apply to take the NCCT NCMA exam and pay the $119 exam fee. After the application has been processed, the NCCT schedules the exam!
Now that you know what each application process entails, there's one last question: Should you use the CCMA or NCMA certification in your program?
4. Which Medical Assistant Certification Should You Implement?

At the end of the day, you can choose between the NHA CCMA and NCCT NCMA certifications based on three factors:
Your course standards

The needs of your local community

Your program's funding
Your Medical Assistant Course Standards
Most medical assistant courses have specific standards that you must meet in order to satisfy your school or state requirements.
To pick your certification, you can compare the topics side-by-side to see which one matches your needs.
While this can take a while, it's worth the security of knowing that you chose the perfect certification for your class!
However, this is just the beginning. You also have to consider the next factor to make a confident decision.
The Needs of Your Local Community
In addition to reviewing your standards, it's important to reach out to your local healthcare providers to see what they need from medical assistants.
Who better to give you some direction than the people who will employ your students?
If your community has larger healthcare facilities that need clinically-focused medical assistants, the CCMA certification is a better fit.
If your local providers are smaller clinics that need medical assistants with a good balance of clinical and administrative skills, the NCMA certification will meet those needs.
Once you've learned this information from your local medical providers, you have one last factor to consider.
Your Medical Assistant Program Funding
In many CTE high school medical assisting programs, the district will pay for some (or all) of the certification costs for students.
If that's true for your district, the application fees could play a part in your decision between the NHA CCMA and NCCT NCMA certifications.
After all, you only have so much money in your budget!
When it comes to the cost, the NHA charges a flat $160 application fee for anyone taking the CCMA exam.
NCCT charges a $119 exam fee.
So if you're worried about cost, the NCCT NCMA is the better choice.
Whichever certification you choose, you can rest easy knowing you've done your research to prepare your students for the best chance of success.
But even after you've decided on a certification, there's still more to do!
Now, you need to prepare your students to pass the exam!
Prepare Your Students for Medical Assistant Certification Success with a Curriculum System
When it comes to getting students certified, it's common to wonder how other instructors prepare their students.
Hundreds of CTE medical assistant instructors across the country have chosen a comprehensive CTE solution as the foundation of their courses.
The iCEV HealthCenter21 curriculum system more than just prep materials that teach your students how to take a test.
Through engaging lessons, interactive activities, and regular assessments, your medical assisting students are prepared for success on their assessments and in their future careers.
"The things students aren't able to touch, feel, and see in person, like anatomy and physiology, are hard topics to learn through just a lecture and textbook.

HealthCenter21 provides that content in a much more comprehensive way. It really improves student achievement!"

Carol Otjens

Grossmont Health Occupations Center, CA
Could iCEV be right for your students? Schedule a demo to learn more about HealthCenter21 and if it's right for your students.
You'll discover more about iCEV's curriculum resources to help you decide if they're a good fit for your medical assisting program: