Why Certify? How Industry Certifications Prepare Individuals for the Future
We asked our social media followers to tell us how industry certifications prepare individuals for future careers and make them more competitive in the job market, and they did not disappoint! Across our various social media platforms, we received many outstanding comments and replies. After reading through the responses, we noticed some common themes and compiled the responses to highlight how industry certifications are valuable to individuals.
As described by iCEV users and followers, industry certifications:
Make Individuals Career-Ready
"Industry certifications give students the confidence they need to help enter the job market or beginning post-secondary education into their field of study." -Pauline Wylie, Arkansas
"They prepare individuals by giving them opportunities to learn all they 'need' to know before they apply for the jobs they are being trained for! I've personally seen students in the classroom learn about mechanics and small engines, and I know it has left an impact on them, allowing them to know what is out there and to learn what is needed to work the job! It is so neat to watch them learn and for them to have the certification ahead of time before they can apply for the job!"

-Rachel Teague, Texas
By earning an industry certification, individuals are taking a proactive step in their career and educational journey. The certification process assesses industry-valued and industry-recognized standards to prove the certification earner possess the necessary skills required to be successful in their future. Regardless if an individual is planning to pursue post-secondary education or directly enter the workforce, earning an industry certification is a way for an individual to verify their knowledge and abilities in a specific field or industry.
Highlight the Individual's Potential
"Industry certifications show potential employees that the candidate is willing to grow in the field and that the candidate is determined to succeed."

-Ruth Haynes, Oklahoma
"Industry certifications show employers that they have what it takes, and they prepare our students for the real world before they get there."

-Kacie Schoettle, Texas
Along with proving the individuals' technical knowledge and proficiency in a specific area, an industry certification exhibits their willingness to learn new material and hone their skills. The certification does not automatically validate the individual as an expert in that particular subject area; however, it does indicate the certification holder is passionate about the field and committed to enhancing their knowledge and skills. A certification also demonstrates the individual's determination and work ethic because of the time investment required to earn an industry certification.
Provide Individuals with Opportunities
"Industry certifications help students prepare for future careers, give students more opportunities within a career and show industry employers that the student is trained and ready to take the next steps toward that career. I wish we had more of these opportunities for our students!"

-Erin Michalsky, Wisconsin
"It provides students the opportunity to prepare for a chosen career field by putting one foot in the door! Employers love to see a devoted worker before they are even hired!"

-Chrissy Balint, Ohio
Not only does an industry certification validate an individual's career readiness, it also increases the potential for the certification earner to partake in unique and valuable career and educational opportunities. By listing an industry certification on a resume, an individual stands out from other candidates who have not completed a certification, and as a result, they are more competitive in the job market. An industry certification does not automatically guarantee an individual will gain employment or other career or educational opportunities, but it does give an individual a way to connect with industry leaders and jump-start their career.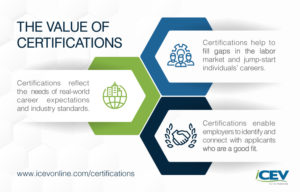 Industry certifications are valuable to both the individual and their future employer. Regardless of what industry certification an individual earns, all of the certifications tested for on the iCEV platform combine foundational knowledge and practical skills to benefit individuals throughout their job search and professional career.
iCEV is proud to test for more than 15 certifications encompassing a variety of skills and industries. For more information about the certifications tested on the iCEV platform, visit the certifications page on our website.