Health Science | Medical Assisting
What's the Difference Between the CMAA and CCMA Certifications?

Subscribe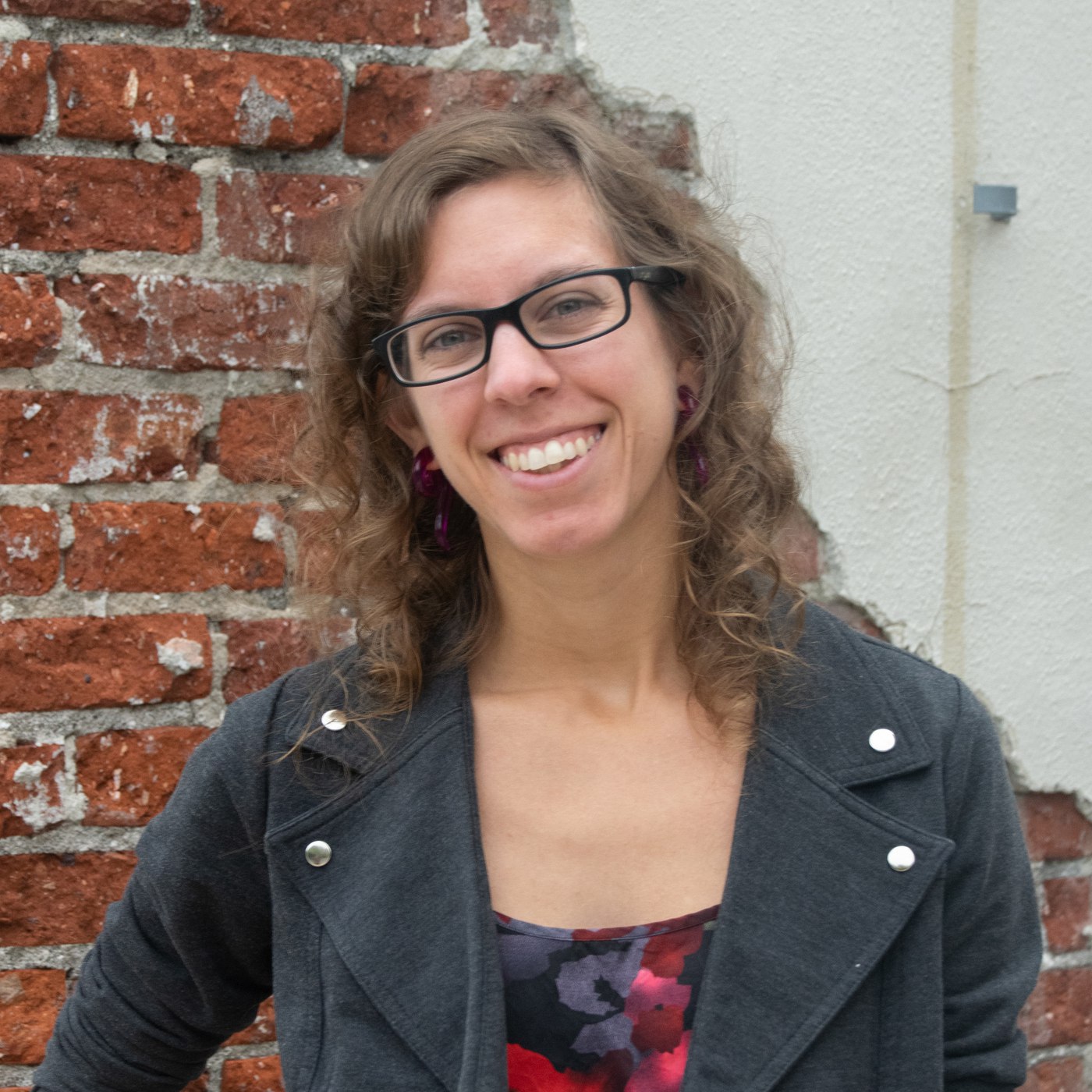 For nearly 10 years, Bri has focused on creating content to address the questions and concerns educators have about teaching classes, preparing students for certifications, and making the most of the iCEV curriculum system.
As a health science teacher, preparing your students for certifications is one of the most important aspects of your job.
With hundreds of certifications from dozens of providers, it's tough to know where to start.
Many teachers have told us they start with certifications offered by the National Healthcareer Association (NHA) since they're widely accepted by employers.
Two of the most popular NHA certifications are CMAA and CCMA.
Both of these certifications prepare students for fulfilling careers in medical assisting.
But what are the differences between them? And how do you know which one is right for your health science program?
In this blog, you'll read a comparison of the CMAA and CCMA certifications, plus recommendations on which one would work best for you and your students.
Let's start by explaining what each certification means!
What Do the CMAA and CCMA Certifications Mean?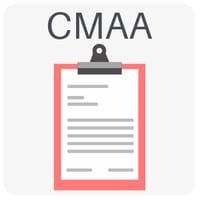 The Certified Medical Administrative Assistant (CMAA) certification designates that someone is able to perform clerical duties to keep a healthcare office running smoothly.
The duties performed by a CMAA include:
Answering calls

Greeting patients

Scheduling appointments

Verifying insurance information

Preparing daily charts

Depending on where they work, a CMAA may be called a medical office secretary or medical office assistant.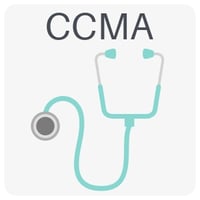 A Certified Clinical Medical Assistant (CCMA) is a multi-skilled health professional focused on clinical procedures in an ambulatory healthcare setting.
In smaller healthcare facilities, CCMAs may also take on administrative tasks.
Altogether, these tasks could include:
Checking patients in and out

Assisting medical providers with exams and procedures

Administering injections or medications

Working with electronic health records

Performing EKG, phlebotomy, and lab procedures

Taking patient vital signs

In most healthcare facilities, a CCMA is called a medical assistant (MA) or certified medical assistant (CMA).
Now that you have a general idea of the difference between a CMAA and CCMA, let's get into the topics!
What Topics Are on the CMAA and CCMA Exams?
Though the CMAA and CCMA exams are considered to be medical assisting certifications, the tests are vastly different!
To start, the CMAA exam has 110 questions and 25 pre-test questions while the CCMA exam has 150 questions and 30 pre-test questions. This is because CCMAs have to know more detailed knowledge and procedures than a CMAA.
In addition, the exams focus on different topics that are based on the skills needed for certified employees to succeed in a healthcare facility.
This is what a student must know for each certification exam:
NHA CMAA Exam Topics

The NHA CMAA exam includes questions that fall under seven domains:
Foundational Knowledge

Communication and Professionalism

Medical Law, Ethics, and Compliance

Scheduling

Patient Encounter

Billing and Revenue Cycle

Medical Practice Administrative Procedures and Logistics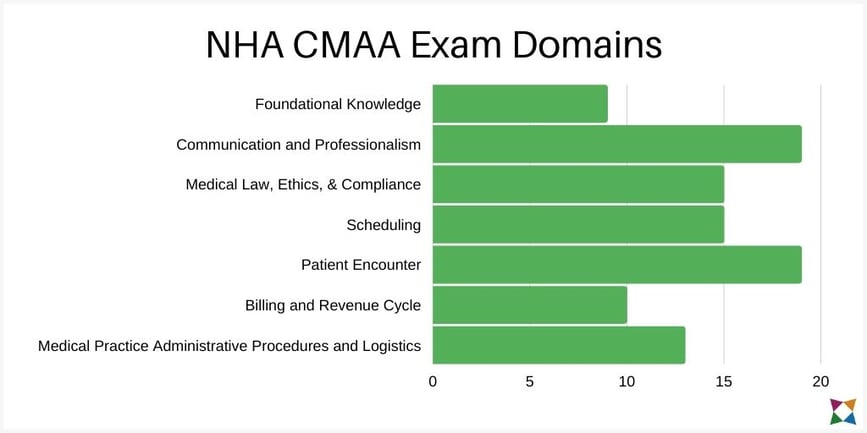 The Foundational Knowledge domain measures a student's grasp on introductory, baseline concepts that many medical professionals should know.
The Communication and Professionalism domain covers the essential skills in the workplace that ensure medical assistants know how to handle patient interactions and work as part of a team.
The Medical Law, Ethics, and Compliance domain measures students' understanding of medical laws and workplace ethics.
The Scheduling domain is about a medical administrative assistant's role in scheduling appointments, diagnostic tests, and procedures.
The Patient Encounter domain focuses on a CMAA's tasks related to reviewing patient intake information including demographics, insurance, and more.
The Billing and Revenue Cycle domain is focused on billing and payment when process patients, ensuring students can effectively handle the revenue cycle at their facility.
The Medical Practice Administrative Procedures and Logistics domain covers many of the regular logistical tasks and duties a medical administrative assistant will be expected to perform at their facility.
Ultimately, your students must be able to complete detailed tasks and have a foundational knowledge of healthcare concepts to earn their CMAA certifications.
To see the full details of what's on the CMAA exam, check out the NHA's CMAA test plan.
NHA CCMA Exam Topics

The NHA CCMA exam is made up of questions under seven different domains:
Foundational Knowledge and Basic Science

Anatomy and Physiology

Clinical Patient Care

Patient Care Coordination and Education

Administrative Assisting

Communication and Customer Service

Medical Law and Ethics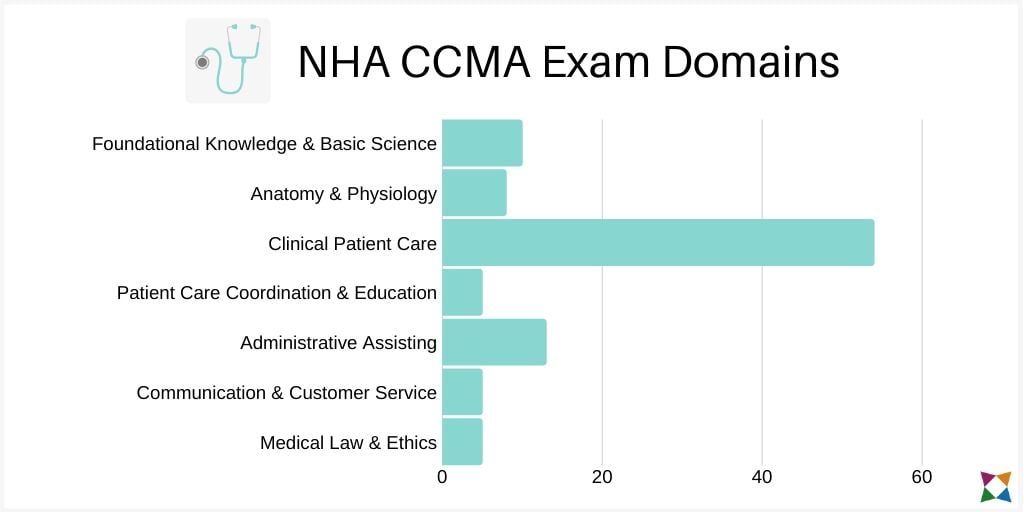 The Foundational Knowledge and Basic Science domain includes what a medical assistant should know about healthcare systems, medical terminology, and other fundamental healthcare concepts.
The Anatomy and Physiology domain is focused on what a CCMA needs to know about body structures, organ systems, pathophysiology, and more.
The Clinical Patient Care domain is the largest portion of the CCMA exam. It includes the detailed procedures and duties medical assistants complete on a daily basis. It also focuses on general patient care, infection control, lab procedures, basic phlebotomy, and EKG testing.
The Patient Care Coordination and Education domain relates to the ways a CCMA will interact with patients and their families in different situations.
The Administrative Assisting domain focuses on potential tasks a CCMA may be required to complete in a smaller healthcare facility without dedicated medical administrative assistants.
The Communication and Customer Service domain ensures a CCMA is able to communicate appropriately and effectively with both patients and colleagues.
The Medical Law and Ethics domain relates to crucial healthcare topics such as advanced directives, the Hippocratic Oath, patient privacy, and more.
Overall, your students must be proficient in a variety of clinical skills and background knowledge to become a CCMA.
To see the full details of what students need to know, read the NHA's CCMA test plan.
Now that you know what each certification exam entails, there's one last question to answer.
Should you use the CMAA or CCMA exam in your medical assisting program?
Should You Implement the CMAA or CCMA Exam in Your Course?
Knowing which certification to include in your program depends on four factors:
Your program's goals

Your students' goals

Your course standards

The needs of your local community

Let's dive into each factor to help you decide whether to use the CMAA or CCMA certification!
1. Your Program's Goals
Your program's goals are the best starting points when you want to decide between using the CMAA or CCMA.
Is your program specifically designed to help students enter a certain type of medical assisting career?
If so, which one sounds more like your program?
The CMAA certification prepares students for careers as medical administrative assistants, medical office secretaries, and medical office assistants.
The CCMA certification prepares students for careers as traditional medical assistants who may also complete administrative duties as needed.
If your program is brand new and you haven't determined specific goals, consider the next factor -- your students' goals!
2. Your Students' Goals
Understanding your students' career goals can help you choose the right certification to meet those goals.
For students who want to work in the medical field, but aren't interested in performing clinical tasks, the CMAA certification is the better choice.
In addition, the CMAA certification is a good starting point for someone interested in pursuing a career as a billing and coding specialist or EHR specialist!
For students interested in learning a variety of clinical procedures, the CCMA certification is the better option.
It's also a great first step for students who plan to become a phlebotomy technician or EKG technician in the future.
If your students aren't sure what type of medical assisting position they want to pursue, the next factor can help you make the right decision!
3. Your Course Standards
Most medical assisting courses have a set of requirements, or standards, that you must teach.
To determine which certification best aligns with your course standards, you'll need to compare your requirements to the test plans provided by the NHA.
Though this can be a long process, the end results are well worth it!
Still, if there's no clear winner after reviewing your course standards, it's time to consider the final factor.
4. The Needs of Your Local Community
If all else fails when deciding between the CMAA and CCMA certifications, it's time to reach out to your local healthcare providers.
After all, who better to give you some direction than the people who will eventually employ your students?
Depending on the types of healthcare facilities in your area, choosing one over the other may set your students up for more success when landing their first job.
Smaller clinics and practices usually want to hire a CCMA who has a well-rounded skill set to complete both clinical and administrative duties.
Larger practices and hospitals are more likely to need both CMAAs and CCMAs who are more focused on specialized aspects of medical assisting.
Ultimately, you'll find that it takes a combination of these four factors to help you decide which certification to implement. Depending on your situation, you may even choose to incorporate both!
Where to Go from Here with Your Medical Assisting Program
At the end of the day, whichever certification you choose is bound to set your students up for rewarding careers in the healthcare field.
But after you've picked CMAA, CCMA, or both -- what's next?
Now it's time to start planning how you'll prep your students for certification success!
Click your certification below to get started!