Best High School Business Curriculum: BusinessU vs. iCEV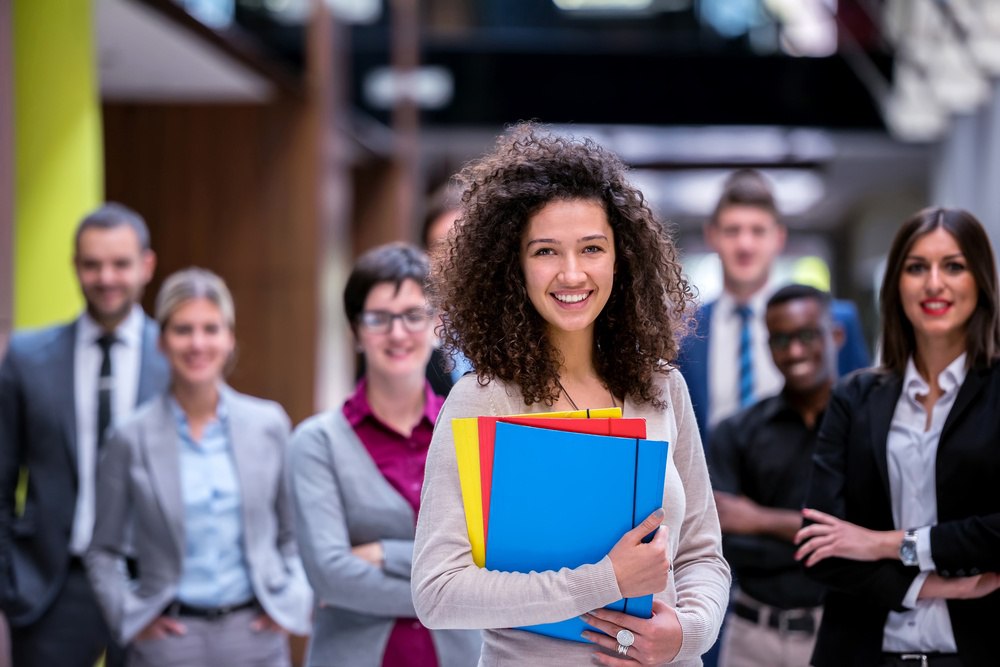 Subscribe
Business education teachers are always looking to introduce new digital resources to their programs that better meet the needs of their courses and students.
As a digital curriculum provider, thousands of business teachers use the iCEV system every year. However, our solution may not be the best fit for everyone.
When teachers consider our business education curriculum, they often ask how it compares to other solutions such as BusinessU.
While BusinessU and iCEV are similar, one may be better for your needs than the other.
To help you decide which one is best for you, we'll answer the most common questions about BusinessU and iCEV:
What topics are covered?
What is the purpose?
What's the instructional format?
After reading, you'll know more about the differences between these two business curriculum providers to help you decide which is better for your students.
1. BusinessU vs. iCEV: What Topics are Covered?
When choosing a curriculum for your business program, one of the most important considerations is how well it covers the topics you need to teach.
In this section, you'll learn what business concepts and skills you can teach with BusinessU and iCEV.
What Topics Can You Teach with BusinessU?
BusinessU helps teachers prepare students for success in the working world via interactive turn-key courses.
They specifically provide courses for:
Principles of Marketing
Personal Finance
Principles of Entrepreneurship
Intro to Business
Pitch Deck Series
Principles of Finance
Principles of Management
Econ 101
Accounting
Teachers can also create custom courses by picking and choosing resources from the pre-built BusinessU courses that they purchase access to.
If you are looking to buy turn-key materials for the courses listed above, BusinessU might be a good option.
What Topics Can You Teach with iCEV?
Thousands of teachers use iCEV to save time with planning and grading while maximizing student understanding and engagement.
The iCEV curriculum contains nearly two dozen courses in business, marketing, information technology, and media that cover a wide variety of concepts and skills:
Accounting I

Accounting II

Advanced Business Computer Applications

Advanced Marketing

Advertising

Business Computer Applications

Business Law

Business Management

Digital Media

Entrepreneurship

Fashion Marketing

Graphic Design and Illustration

Human Resource Management

Introduction of Business and Marketing

Personal Finance

Practicum in Marketing

Principles of Art, Audio and Video Technologies, and Communications
Principles of Information Technology
Professional Communications
Public Speaking
Social Media Marketing
Retailing and E-tailing
Sports and Entertainment Marketing
iCEV is customizable, so you can choose from the available courses to create a curriculum that suits your students and your unique course standards.
If you are looking for a curriculum with a comprehensive range of business and career readiness topics you can pick and choose from, iCEV is a good option.
2. BusinessU vs. iCEV: What's the Purpose?
Both BusinessU and iCEV provide resources that will help you teach business concepts to your students, but the overall purpose is slightly different.
Understanding this difference will help you decide which one is best for you and how you can use the materials provided.
In this section, you'll learn about the intended purpose for BusinessU and Business&ITCenter21.
What's the Purpose of BusinessU?
The BusinessU courses are turn-key solutions, which means everything is provided with a specific course length and structure in mind.
The duration of each course depends on which course you choose:
| | |
| --- | --- |
| Course | Duration |
| Principles of Marketing, Principles of Entrepreneurship, Intro to Business, Principles of Finance, Principles of Management, Accounting | 180 days |
| Personal Finance, Econ 101 | 90 days |
| Pitch Deck Series | 40 days |
While the majority of BusinessU courses are designed to last an entire school year, a few of the courses will take a single semester or less to cover.
Overall, BusinessU is a great option if you're looking for a plug-and-play curriculum for one of the courses they provide.
What's the Purpose of iCEV?
In comparison, iCEV is a full-fledged digital curriculum for business, marketing, information technology, and media.
It's designed to provide a comprehensive learning experience to CTE students in middle and high school and is an excellent fit for programs looking for a curriculum that can be can be used for classes throughout the Business Management and Administration and Information Technology career clusters.
iCEV is an especially good fit if you have teach more than just standard, introductory-level business courses. Because it's flexible and customizable, iCEV allows you to build a unique curriculum that will meet your standards and prepare your students for success.
Ultimately, iCEV is a good fit if you are looking for a comprehensive curriculum solution that goes beyond the standard business courses.
3. BusinessU vs. iCEV: What's the Instructional Format?
Although they cover similar topics, the way that BusinessU and iCEV are developed and delivered to the students vastly differs.
Even if a curriculum meets your standards, the instructional style must meet the needs of your students.
Depending on your teaching preferences, classroom setup, and how your students learn best, you may find one works better than the other for you.
In this section, you'll learn more about the instructional format for BusinessU and iCEV.
What's the Instructional Format for BusinessU?
BusinessU is heavily centered on student-led learning, primarily focused on reading exercises and guided discussions.
Some of the topics also include videos for students to watch and take notes on, either alone or as part of a group activity.
Teachers have the ability to add their own materials and assignments to the platform and can create custom exams. You can also track and report on student progress using the BusinessU platform, or integrate it with select learning management systems.
If your students work well independently and don't need guided through the course work, BusinessU could be a good choice.
What's the Instructional Format for iCEV?
iCEV is developed using a blended learning approach that provides a mixture of teacher and student-led instructional materials. The media-rich lessons and supporting coursework are designed to help maximize student engagement and understanding using expert-driven content and real-world projects and activities.
Every iCEV course is housed in an integrated platform that you can use to track, assess, and report on student progress while saving time. In addition, the versatile learning modules allow teachers to be flexible in planning and assigning course content while ensuring students are prepared for industry certifications.
This adaptable instructional format also allows teachers to differentiate their instruction for various audiences, including students in special populations.
Overall, iCEV's instructional format is great if your students benefit from a flexible, blended learning environment.
BusinessU vs. iCEV: Which One Is Right for You?
Ultimately, deciding between BusinessU and iCEV for your business education curriculum depends on your needs and goals.
BusinessU provides pre-built, turn-key solutions and is mainly a student-led delivery system.
iCEV allows you more flexibility in your teaching methods and provides more variety between teacher-led and student-directed learning.
The best way to know if iCEV is a good fit for you is to sign up for a trial and try it with your students. When you sign up for an iCEV trial, you'll have access to the entire Business, Marketing, Finance, IT and Media to help you decide if it's right for your program.